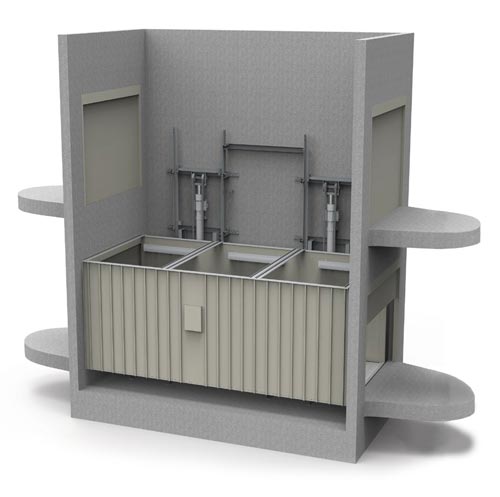 Cargo lifts -hydraulic and traction- are forged in order to withstand every hardship, satisfying even the most demanding requirements of functionality.
Some of the main features are :
▶ Stiffness
▶ Safety
▶ Reliability
▶ Aesthetics
▶ Ease of installation
Materials such as galvanized, epoxy painted steel sheet, or even stainless steel can be used, which stand out for high durability and protection from damage due to frequent, heavy and long-term use. They are mainly used for heavy duty industrial applications, warehouses, super markets, parkings, hospitals and commercial centers.
Features :
▶ Compliance with Directive 95/16/EC and EuropeanStandard EN 81-2 + A3
▶ Lifting Capacity up to 20.000kg
▶ Speed up to 0,63 m/sec
▶ Travel up to 18m (7 stops)
▶ Low noise and smooth operation
▶ Available with various cabin types
▶ Standard Automatic Emergency Operation
▶ Machine room at any location in relation to the lift shaft
▶ Double COP in case of through car arrangement